Yampa River – South Beach to Duffy Mountain
May 8-9
By Dan Custer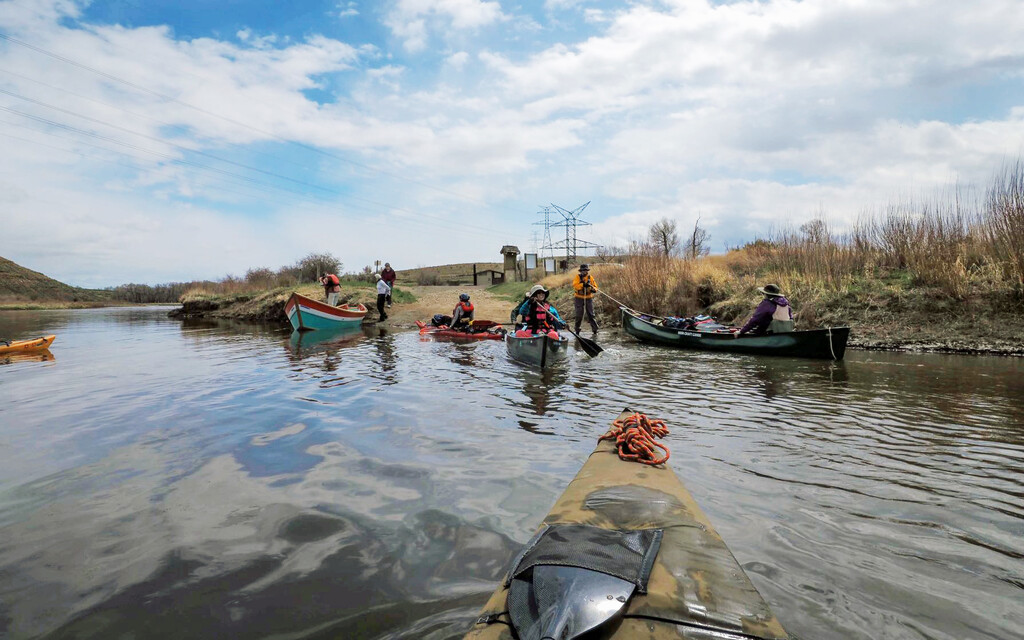 We had a good time and we were lucky.
A couple of weeks before the trip the Yampa was running at 500 CFS, way too low. Since the Yampa is not damn controlled, we needed snow melt for the river to come up. A week before the trip there were some warm days and the river came up. Then the days go cooler and the river dropped a bit, but not below the 1100 CFS threshold for being runnable. Lucky for us that a couple days before the trip there were some warm days and river came up again. It was around 2000 CFS for the first day of the trip and dropped a little to about 1800 CFS for the second day. 4000 CFS is the closer to average.
Before the trip, we were in communication with the Yampa River State Park to let them know our plans. We also asked for permission to camp at the put-in, the South Beach river access. Camping at South Beach is for river travelers only and requires permission from Yampa River State Park. There is no fee for camping there, but there is a fee for parking. Being a state park, you can either put money in the pay station box or have a Colorado State Park annual pass. When Kathryn called to verify that the boat ramps were suitable for a dory, she found out an interesting bit of info. If the river is low, you run to risk of touching bottom, and the concern is not any potential damage to your boat. The concern is that touching bottom is trespassing. When I spoke with the rangers, they wanted to know how many cars we would have the South Beach and Duffy Mountain river accesses, so during the shuttle I called them and gave them the exact count.
This year a lot of people wanting to go on this trip. So many people that we formed 2 groups; those that had to get back to work could do it in 2 days and everyone else would go for 3 days. Both groups would do the same stretch and do the shuttle together on the first day. Close to the start of the trip, a number of people in the 2-day group looked at the weather report and decided not to go. Once at the river, we decided to travel as one group the first day. We had 5 tandem canoes, 2 solo canoes, 2 sea kayaks, and a beautiful dory. The 14 paddlers stuck together as a group and the dory trailed behind. I thought seeing the dory come into view around a bend was something like seeing Spanish galleon on the river. The dory did fall behind but never by too much. In the future, I don't think I would plan on managing 2 groups.
Kathryn, Chet, and Natalie were the dory's crew. Kathryn and I planned to use our Garmin inReach satellite messengers to keep in touch in case of a bad event. Before the trip we tested inReach to inReach communication to make sure we could communicate. Lucky for us, we didn't need to communicate via inReach. The dory did get grounded once and they managed to free themselves and get moving. Hate to think about them getting impossibly stuck. Yes, we could communicate with our inReach devices, but it wasn't until I got home that I discovered that I could have done a better job setting up my inReach. Usually, I like to mute electronics so that they are not making extra noise, but that made incoming messages on the inReach silent. Also, I was not aware of a setting for messages to ring until read. Now I know that for this trip I should have had sounds enabled, had turned on ring until read, and maybe had adjusted the inReach to check for new messages more frequently, like every 2 or 5 minutes.
The first day of this trip had us passing through private property, which is fine if you stay in your boat and keep moving on. In early May the cottonwoods have not leafed out so the abundant eagle nests are plainly visible. Quite a few nests had bald eagles on or near them. I didn't see any of the fledglings on this trip, but I know they were there. There were so many eagles on nests that I lost count of them. Besides eagles (bald and golden) I saw sandhill cranes, mergansers, killdeer, a beaver, an otter waking up from a nap in the sun, and honking pairs of geese. Paul took a fantastic picture of an oriole while at camp. I was told that Fran spotted a wide variety of birds.
On this trip we usually camp on an island on BLM land that has ample space to spread out our tents. Pitching a tent here is easy because the island is mostly flat and soil is perfect for standard tent stakes. I pushed my stakes in with a shoe and they held tight all night. Before pitching a tent, cow pies may need to be cleared away.
Traveling this stretch of the Yampa in early May has advantages and disadvantages.  One big advantage is that there are very few if any mosquitoes.  The Yampa has reputation for vicious mosquitoes (see Voyageur's Companion articles; August 2011 page 8, December 2011 page 5).  Another advantage is that for the past few years we have not seen very many people on the river, and no one at the campsites.  The only other boat on the river had a couple of biologists netting fish.  In early May we have always had enough river flow, but this year was the lowest I had seen it.  The water's edge at the Duffy Mountain take-out was maybe ten yards out from the boat ramp.  I'm used to seeing the water right up to the ramp.
The weather in early May is a gamble. One year we had snow storm just before the trip, but while on the river the weather was pleasant. This year the storm was coming for the third day of the trip. At camp we pulled up a weather report with an inReach, and many of us got concerned that it could be snowing the morning of the third day. Since the trip can be done in 2 days, we decided to make it a 2-day trip for everyone who could paddle out the next day. The wildcard was wind. If it got too windy, the dory may not be able to finish the trip in a day. The plan was to launch at 8:00 in the morning, get to the planned campsite (Bubba's Beach) for the second night, and decide who was going to finish the trip in 2 days. Those that had to get out in 2 days could continue with Karen as the guide, since she knows this stretch and has good river sense. If the dory could only make it to Bubba's Beach, then several of us planned to stay with the dory for a second night. We got to Bubba's Beach before Noon and had lunch there. Shortly after the paddlers arrived a Bubba's Beach, the dory arrived. We got another inReach weather report that said there was a good possibility of waking up to temps in the low 30's with a heavy rain snow mix. We all left Bubba's Beach and got to the take-out in about an hour and a half. There were some gusts, but it was not a strong steady headwind.
We got lucky. Lucky with the weather. There were no persistently powerful winds, so the dory was never too far behind. It only got to freezing while we were in our sleeping bags, and it only rained for 10 minutes while we were paddling. The river flow was good enough. And as expected, we saw lots of eagles on nests and saw hardly any mosquitoes.
Everyone worked well together and was a joy to be with.  It was a very good trip.
Dan