Skilled boaters make boating safer and more enjoyable for all.
2023 Class Schedule
Date
Event
March 4, 12, 18, 2023
Pool Workshops / Roll Practice / Open Pool Use. Registration is Required. See the Club Calendar for details.
April 6, 2023
Beginning River Safety & Rescue Zoom Presentation. See Calendar
April 12, 2023
Trip Coordinator (TC) Virtual Training. See Calendar
May 6, 2023
Boat Rigging and Packing, Ashworth's.
See Calendar
May 6 & 7, 2023

*Waitlist Started*
Essentials of Canoeing, Flatwater & Moving Water. 2 Day Class.
Registration is Required. See the Club Calendar for details.
July 9-10, 2023
Swiftwater Rescue. 2 Day Class. See Calendar.
Summer 2023 – Date TBD
River Canoeing, Class II (ACA L3), 2 Day Class. Prereq: Essentials (ACA L2) or equiv. experience. Dependent upon interest.
Summer 2023 – Date TBD
River Canoeing, Class III (ACA L4). 2 Day Class. Prereq: Class II (ACA L3) or verified equiv. experience. Dependent upon interest.
---
Boating Skills Instruction
Canoe instruction is available through both the RMCC and other entities.
RMCC occasionally sponsors pool sessions and moving water sessions for practicing paddling techniques. Winter classes are generally held at Meyers Pool in Arvada where warm water and vigilant lifeguards can ease beginner jitters and help develop confidence in more experienced paddlers. During spring and summer, flatwater instruction on a local lake and river instruction takes boaters onto their first moving water and beyond.
The winter pool classes are one-hour refreshers and demonstrations of various canoe techniques from strokes (forward strokes, draws, etc.), to bracing and rolling, to self- and assisted rescue (getting safely back into that boat after your brace and roll fail.). See the Getting Into A Canoe in deep water video from a 2019 skills practice session.
The RMCC canoeing essentials class includes a morning or afternoon session on a local lake and a second morning or afternoon session on an easy section of river.
Essentials of Canoeing Day 1: Flatwater covers canoe equipment, boat outfitting, canoe strokes, water safety, and basic maneuvering. Fun, dynamic drills and games will help students learn basic skills for moving the canoe as efficiently as possible using the following strokes: forward and backward strokes, sweeps, draws, pries, and the J stroke.
Essentials of Canoeing Day 2: Moving Water covers skills for paddling in moving water. Skills include "reading" water, safety considerations on moving water, advanced canoe strokes, and specific canoe maneuvers including eddy turns, ferries, and S turns.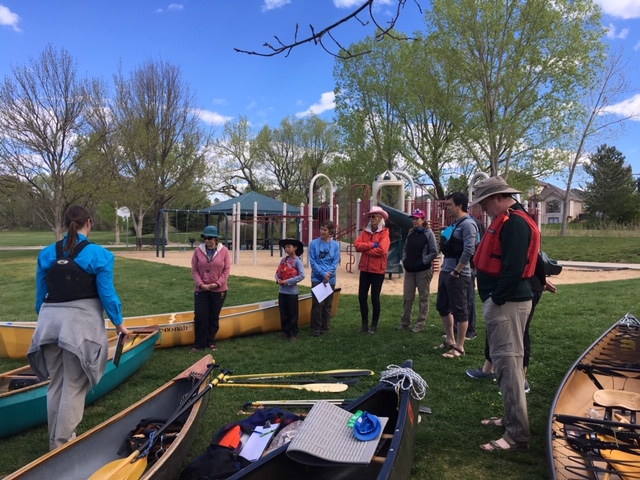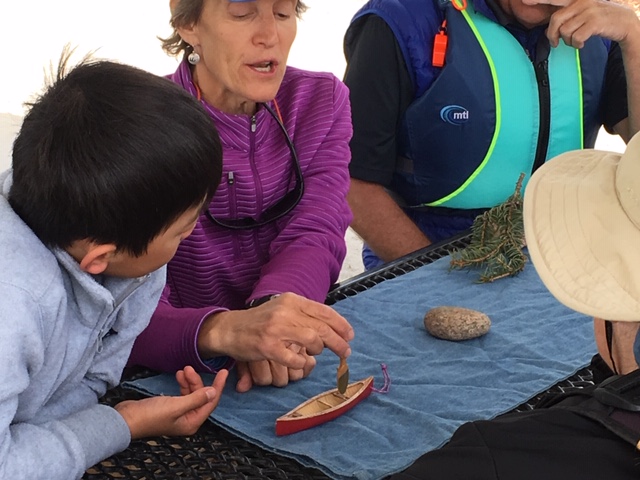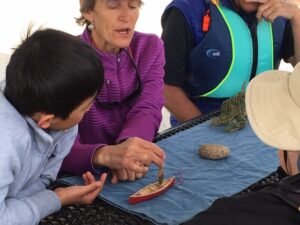 No previous canoe experience is necessary to take the Essentials Day 1 class, but it is a good refresher for those who have canoed before. Part I or previous experience in a canoe is prerequisite to the Essentials Day 2 class.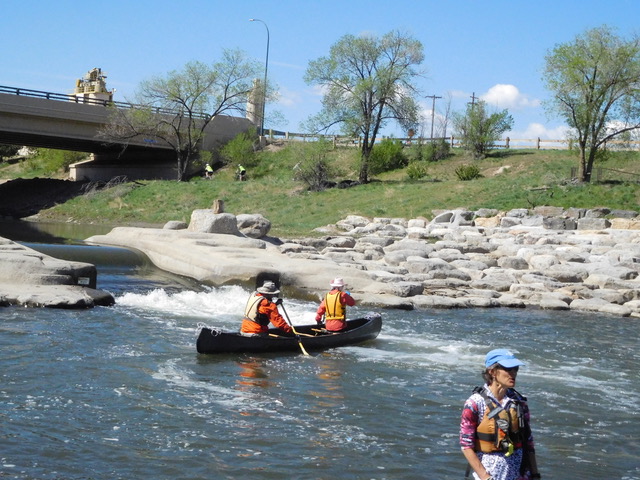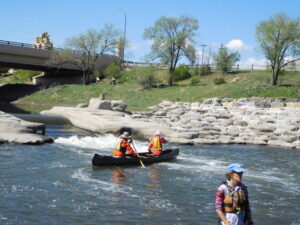 Beyond boating skills, the club also fosters development of skills for enjoying your tripping experience:
Packing and Rigging – Set up and pack your canoe for river tripping. This is a dry land exercise to prepare you to rig your boat for moving water and what and how to pack for weekend and multi-day camping outings.
Canoe Care and Repair – Demonstrations and hands-on boat care and repair.
Canoeing Cuisine – Prepare, pack, carry, and serve tasty camp meals, including tips on dutch oven cooking, dehydrating, and much more.
Non-RMCC Classes are also available, for example:
---
River Rescue and First Aid Classes
The club does not currently offer formal river rescue or first aid classes, although the winter pool skills classes include self-rescue techniques (see above) and an informal river safety class is occasionally scheduled during the summer.
Non-RMCC classes are available, a few examples include:
Swiftwater Rescue:
Canyon River Instruction — https://www.canyonriverinstruction.com/courses
Rocky Mountain Outdoor Center — https://rmoc.com/certification-courses/swift-water-rescue/
Dvorak Expeditions — https://www.dvorakexpeditions.com/whitewater-education-courses/
4CRS, Durango Colorado — https://www.riversports.com/rs/product/364/Swiftwater-Rescue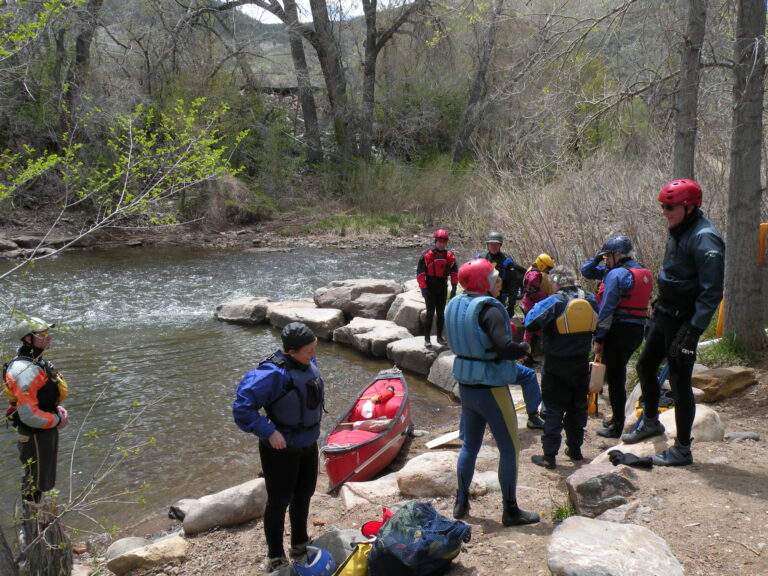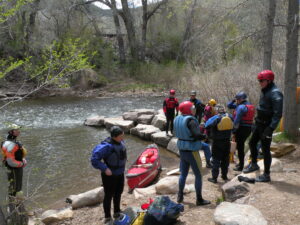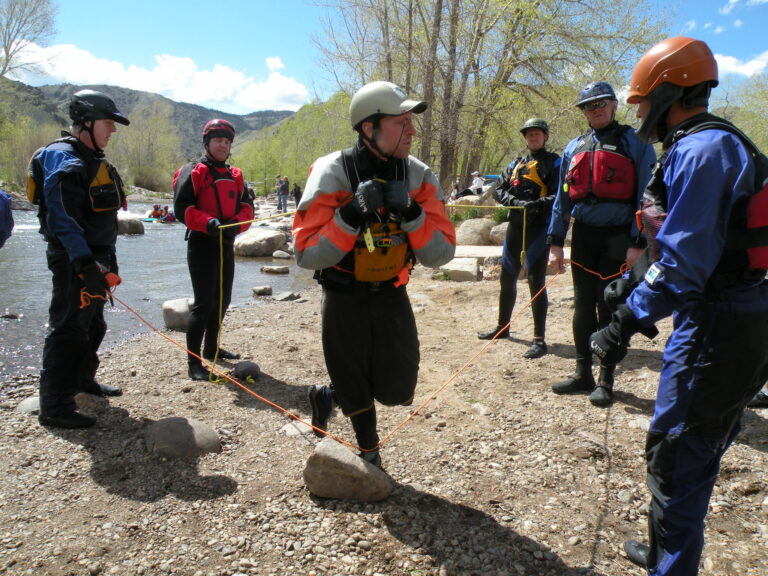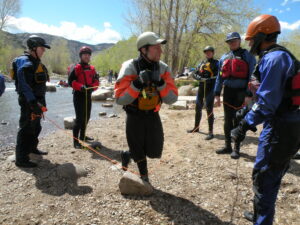 Wilderness First Aid:
NOLS — https://www.nols.edu/en/coursefinder/courses/wilderness-first-aid-WFA/
Colorado Mountain Club — https://www.cmc.org/Classes/CMCClassesandSchools/WildernessFirstAid.aspx
---
Trip Coordinator Classes
RMCC trips are single to multi-day outings coordinated by club members. The trip coordinator schedules the trip, organizes or provides information on logistics (e.g., river permits, canoe rental, camping opportunities, shuttle logistics, etc.), answers questions from prospective participants, has the final say on the roster of participants, and works with the club Trip Master to submit paperwork to the American Canoe Association following the trip. Periodically, the club sponsors a training session to familiarize both experienced and prospective new coordinators on the skills needed to safely and efficiently coordinate trips. If you are interested in being a Trip Coordinator or in coordinator instruction, contact the Trip Master.
---
Instructor Classes
Paddling with more highly skilled paddlers and challenging oneself on more difficult waters (within reason) are good ways to improve our boating skills. While friendly advice is freely given and (usually) welcome on club trips, RMCC members are encouraged to take the next step to help their peers to be better boaters. The ACA has certification programs for boating skills instructors. RMCC members are encouraged to take these classes and share their skills by participating as instructors or instructor helpers for club sponsored classes.
The American Canoe Association (ACA) has one of the best established paddlesport instruction programs anywhere in the world. The courses are comprehensive, but allow enough flexibility for individual teaching and paddling styles. The main benefit to taking the course is improving your understanding of paddling technique and theory, so you can paddle more efficiently and teach more effectively. A secondary benefit is the development process which can give you structured feedback on becoming an effective instructor. A third benefit is the significant insurance, liability, and networking benefits of ACA certification. Instructor development workshops are very rewarding and enjoyable, because of the opportunity for idea exchange. RMCC periodically offers these workshops; see the events calendar for available classes.
---
Additional Resources
Aside from formal instruction, there are many resources available to help improve our boating and safety skills. The following are just a few. If you have additional suggestions, please contact the RMCC Webmaster.
Outfitting Your Canoe, Sammer Elias
Knot Tying — Animated instruction for some of the best knots for boating, including the bowline, prusik, taut line hitch, trucker's hitch, figure eight and more.